James Cameron has spent well over a decade crafting his detailed and vibrant universe for Avatar, and Ubisoft has been building upon this universe for nearly 3 years, so, as a bonus for people that crave more information about it, we offer the Pandorapedia. Accessible through the pause menu, the Pandorapedia is a compendium of accumulated knowledge about all things Avatar.
In the Pandorapedia, you will find detailed descriptions of virtually every facet of the universe of Avatar. From the arsenal of weapons, vehicles and armor of the Resource Development Administration (RDA) to the diverse flora and fauna found on Pandora, everything that you come into contact with in Avatar has an entry in the Pandorapedia. Think of it like a "Hitchhikers' Guide to Pandora."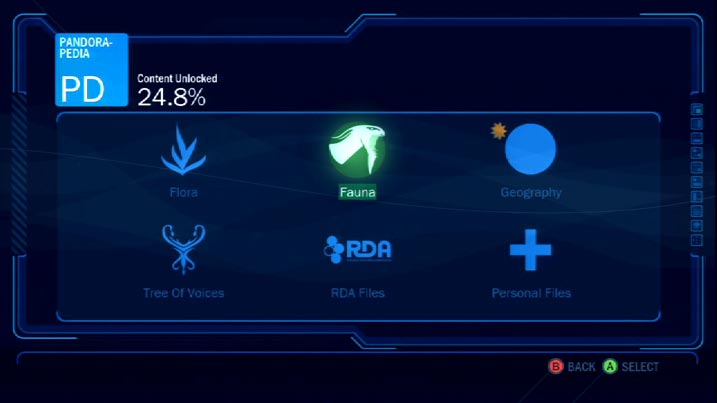 Best of all, the Pandorapedia evolves as you play Avatar: The Game, so, if you meet a new character in the game, the Pandorapedia updates its files to reflect this newly-gained knowledge. In addition, the Pandorapedia is a self-editing system, so as information changes due to the shifting fortunes of the war between the Na'vi and RDA, the Pandorapedia will note these alterations for you.
This process is not totally automated, however, and you are expected to assist in the maintenance of the Pandorapedia's database. As an explorer on the frontiers of this alien moon, you are equipped with an interactive scanning system which will analyze new data when activated. Whenever you scan an object, the Pandorapedia will update its database with the data you have collected. While some entries update automatically, it is important for you to do your part and help keep the information housed within the Pandorapedia as fresh as possible, so be sure to keep your eyes peeled for new specimens.
For your viewing pleasure, I have provided a screenshot depicting the entry on Polyphemus, Pandora's parent planet.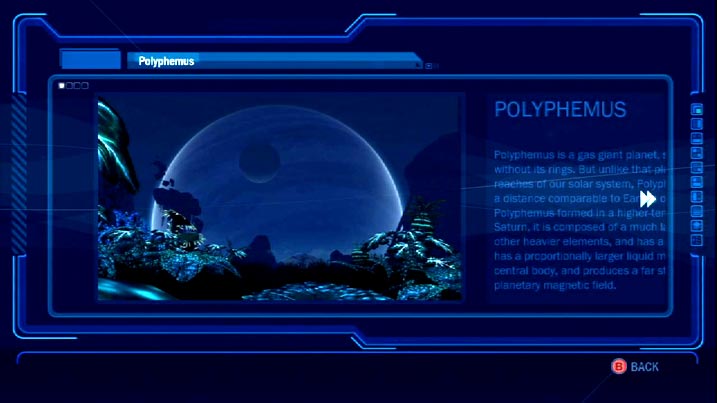 Of course, it must be noted that this screenshot shows only the barest fraction of the massive quantity of data compiled within the Pandorapedia… and we hope you will enjoy adding to the Pandorapedia during your journeys through James Cameron's AVATAR™: THE GAME.
Thanks for reading!